World Antimicrobial Resistance Awareness Week
It is World Antimicrobial Resistance Awareness Week and Ausvet's Dr. Skye Badger has presented our innovative approach to One Health antimicrobial resistance (AMR) surveillance at the Australian Veterinary Antimicrobial Stewardship Conference! Antimicrobial resistance is the "silent pandemic" that has significant consequences for human and animal health, and the importance of effective messaging cannot be overstated. For tips on AMR communication check out Skye's call to action below!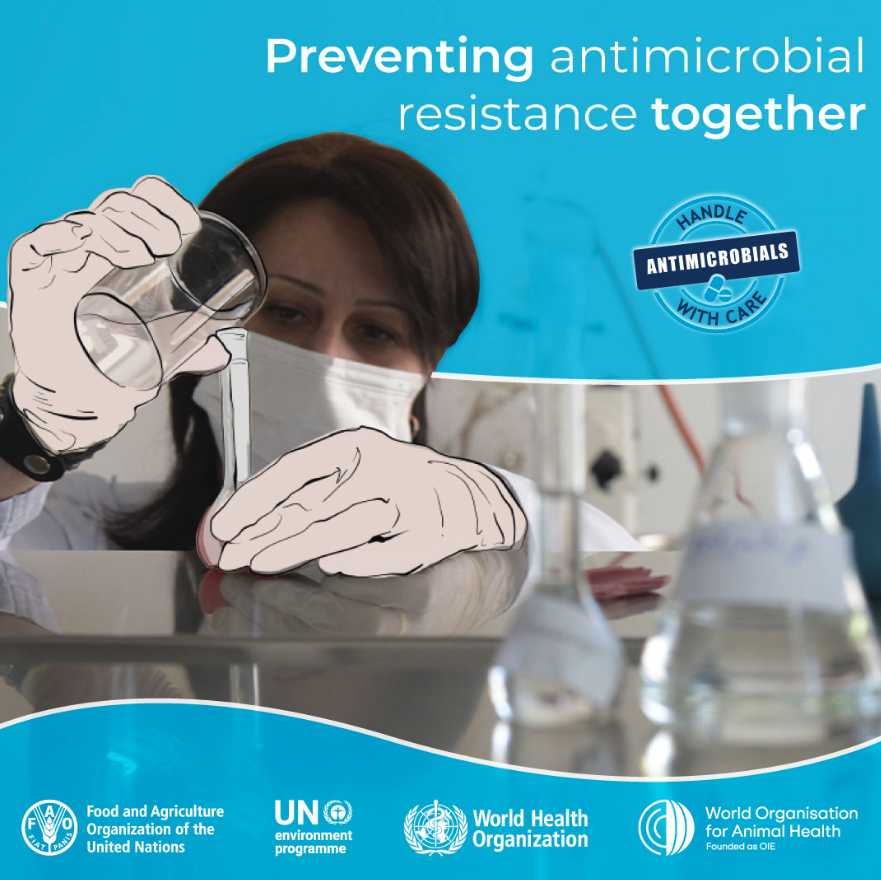 Antimicrobial resistance – just who are we talking to?
Maybe you know about antimicrobial resistance, but I can guarantee plenty of people don't. Just walk into your local bar or hang out down the park and ask someone, "Have you heard about antimicrobial resistance?". More often than not, you'll be met with a blank stare. It doesn't matter if they're tertiary educated or have never finished school; there's a whole bunch of people for whom the term 'antimicrobial resistance' does not register. The question arises: why? Since at least 2015, there has been a concerted global effort to raise awareness about AMR, antimicrobial resistance, antibiotic resistance, superbugs – oh wait, what do we even call this phenomenon? We can't agree on terminology.
Lately, there seems to be more active critiquing of the language used to describe antimicrobial resistance: it's too technical, too combative, it blames and shames, it's demotivating, and it's simply not cutting through. They don't call antimicrobial resistance the "silent pandemic" for nothing. A recent study by Krockow et al. (2023)[1] surveyed over 1,000 people in the UK on risk association and word memorability of the six most common terms "AMR", "antimicrobial resistance", drug-resistant infections", "antibiotic resistance", "bacterial resistance", and superbugs" comparing them to other health terms, like cancer, COVID-19, and AIDS. The terms "AMR" and "antimicrobial resistance" consistently scored low on both risk association and memorability – so low that the term "AMR" was second last of 40 health and disease risk terms and third last in the memorability stakes. The term "antibiotic resistance" scored the highest, just scrapping into the top 20 terms for both categories. It makes sense to use terms people recognise, so let's go with antibiotic resistance from now on.
Studies like this are a wake-up call to those of us actively engaged in efforts to manage antibiotic resistance. People are seriously underestimating the risks associated with this most important of global health threats because they are unaware of it or don't understand what we are talking about. According to the high-level experts attending the May 2023 dialogue meeting organised by ReAct[2], reframing antibiotic resistance and shaping a common vision is one of our most urgent challenges. The experts lay out the problems with current messaging on antibiotic resistance and ask, "do we know what we want to achieve, and can we tell a story on how to get there?". Well, the experts at the dialogue meeting have a plan. They propose we move the narrative to be more people-centred and focused on sustainability and equality, arguing that antibiotic resistance shares many similarities with other sustainability issues like climate change. Crucially, they propose that we put aside the "scare tactics" like referring to deaths caused by resistance and blaming excessive antibiotic use on some sectors. Instead, we should focus on positive messages, giving people hope that something can be done about the problem. Let's think of it as reinforcing good behaviour rather than punishing bad.
So, who are we talking to about antibiotic resistance? Honestly, it's like we're only talking to each other in the scientific community. The slogans we use, the visuals of laboratories and agar plates, and the confusing infographics trying to explain antibiotic resistance are not engaging for the public if they are indeed our main audience. Clearly, a one-size-fits-all narrative doesn't work for antibiotic resistance. Messaging should be tailored for different audiences and framed to offer pathways for positive actions. It is beyond time to engage with social behaviour and communications experts, people who understand what motivates communities, and develop a shared narrative for positive change at all levels.
---
[1] Krockow, E. M., Cheng, K. O., Maltby, J., & McElroy, E. (2023). Existing terminology related to antimicrobial resistance fails to evoke risk perceptions and be remembered. Communications Medicine, 3. https://doi.org/10.1038/s43856-023-00379-6
[2] ReAct 2023. The Global Need for Effective Antibiotics Unlocking Barriers for Collective Action Uppsala Dialogue Meeting Report 2023. https://www.reactgroup.org/wp-content/uploads/2023/10/ReAct_Report_Unlocking_Barriers_For_Collective_Action_Oct_2023_web.pdf